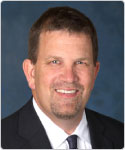 Guy Hocker
President
Guy Hocker leads Cetera Retirement Plan Specialists as its President. Prior to joining Cetera Retirement Plan Specialists, Mr. Hocker held the role of president and COO of Benefit Planning, Inc., the Los Angeles office of National Investment Managers, Inc., a publicly held company. He previously performed as an ERISA lawyer for more than a decade, including substantial Internal Revenue Service/Department of Labor submissions and negotiations; complex plan designs (defined benefits/defined contribution combinations); niche designs (prevailing wage and non-profit); and comprehensive experience with qualified plan compliance practice management.
Mr. Hocker is a member of the American Society of Pension Professionals and Actuaries (ASPPA), the National Institute of Pension Administrators (NIPA), and the Western Pension and Benefits Conference, and is an associate member of the National Tax Sheltered Accounts Association (403(b) emphasis). His professional designations include ASPPA Certified Pension Consultant and ASPPA Associate Professional Member. He frequently speaks at industry events and has served as president of the Los Angeles NIPA chapter.
Mr. Hocker earned his law degree from William Howard Taft University and his bachelor's degree in business administration from the Walter Haas School of Business at the University of California, Berkeley. He is also a licensed member of the California bar.
---